Affordable, high quality website hosting in Australia
We're not competing with $1/mth specials, so if you like call centres and you want your website to be hosted offshore, then don't read any further.
It takes more than $1/mth from a million customers to deliver a high quality service, and over the years we've developed a number of rock-solid partnerships with data centres across Australia allowing us to deliver a high availability website hosting infrastructure that really packs a punch when it comes to performance. We don't stuff a thousand people on a server, and we don't tolerate hacking or malicious activity, so your data is safe, secure and local without costing you a fortune.
That means faster page load times (as you're looking at a site that's actually hosted in Australia), and better search engine results too. But it's not just the quality of our hosting environment that seals the deal.
The expertise to deal with all your online needs
We don't just host websites, we're a talented team of developers, designers, marketers and support engineers, so no finger pointing, just solutions.
We're committed to providing a personable, friendly experience that doesn't make judgements on your technical ability (or lack thereof!). That means we'll help setting up your email, we'll show you the ropes and we'll even do it for you – whether it's installing an SSL certificate, adding DNS entries, creating a new email address or resetting a password. We'll also give you the right advice on how to configure and streamline your services to ensure you're getting the most out of them.
Our support services are second to none, our customers know it and that's why they stick with us. We have the technical expertise to solve even the most complicated issues, because problem solving is what we do.
What's included with my web hosting package?
cPanel
We use cPanel for our all our web hosting environments. cPanel sets the standard in web hosting control panels. It's secure, stable and fast, with loads of options to make your website hosting experience as pain-free and flexible as possible.
PHP
Supporting PHP 5.1 all the way through to PHP 7, we can handle just about any CMS, shopping cart or web app you want to throw at us. PHP is the server-side programming language of choice for the majority of websites on the Internet.
MySQL
MySQL is the foundation on which some of the biggest names in the business were built on, including Facebook, YouTube, Uber, Booking.com, Symantec, Walmart, NASA and many more. Great for a blog or an enterprise-scale application.
WordPress & CMS ready
Perfectly suited and designed to support WordPress, OpenCart and many other popular CMS and shopping cart platforms, you can either transfer your existing site, or build a new one in minutes using the installers in your control panel.
Flexible, Hi-Performance
You'll want to ensure your hosting platform can handle the technologies needed for SEO, compression, caching and more. Apache server is without doubt the best solution here and all our hosting accounts use this rock solid platform by default.
Single sign-on
No more confusing, antiquated systems, manage all your services in one place with a single login. Pay your bills, register domains, upgrade your hosting, purchase additional services, lodge support tickets and even access your control panel.
Is it really unlimited?
Yes, that's right – we offer unlimited bandwidth (traffic) email accounts, subdomains, parked domains (aliases) and databases. As Australian based hosting is a premium product, we do cap the space you use, but the rest is all you can eat!
24/7 technical support
Being a family based business, you trust our committment to customer service and you know you'll get someone you can understand, with the technical expertise to help you out of a jam. We're available anytime, day or night, just call us?
Safe & secure
The security of your site and your customers is paramount. Slow servers, bouncing emails & malicious activity might be normal for some, but we don't put up with it. Best practices ensure your hosting and your software remain protected.
Rather speak to someone? Call us to discuss your hosting requirements, and we'll show what we can do to provide a good 'fit' for your business.
1300 662 492
Website, DNS & Email Hosting
Domain Registration & Renewals
.com
$40 / yr
Perfect for startups
Min. registration 1yr
Requirements None
.com.au
$40 / yr
Australian businesses
.org
$40 / yr
Great for non-commercial
Min. registration 1yr
Requirements None
.org.au
$40 / yr
Australian non-commercial
.net
$40 / yr
Great for technology
Min. registration 1yr
Requirements None
.net.au
$40 / yr
Australian technology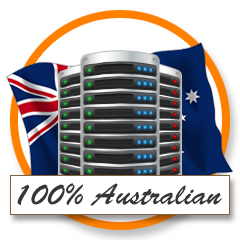 Tired of offshore call centres and people who don't speak your language? Sick of waiting on hold for 30 minutes only to get someone who has no idea who you are? We're a family owned business, and we pride ourselves on the fact that our staff, our services, our vendors and our support network is all 100% Australian. That means we understand what you're about better than most because we're a local business too.
We're also up front about our terms and conditions, so the price is he price, we're not up-selling a thousand services you don't need, and you won't get to the checkout before realising that that low price was based on a 5yr contract. You can leave at any time, in fact we make the entire process as smooth as possible whether you're joining us or moving on.
Finding a high quality, Australian website hosting option these days that comes with the dedication of a local support team is tough, but that's what we offer and we hope you'll join us!
We provide a variety of services to help you get the most out of your online presence. Ask about our maintenance packages, including backups, security and updates, as well as our development, design and marketing services to see if we can add value to your website.
1300 662 492